2017.6.23


Report on Exhibition of Morihiro Hosokawa's "Seasons of Tanada" by Plenus Cultural Succession Project

For a four-day period from Thursday, June 1 to Sunday, June 4, 2017, the Morihiro Hosokawa work "Seasons of Tanada" was exhibited by the Plenus Cultural Succession Project at Spiral Garden in Minami-Aoyami, Tokyo, attracting many visitors.

The gigantic, 8m-tall paintings were installed in the first- and second-floor atrium of the main hall, and there were also further installations, such as exhibits of the rustic houses that decorate Mr. Hosokawa's work, and a video corner summarizing the course of the paintings' creation, from the initial design to production. On the ramp to the second floor, visitors viewed paintings depicting autumn festivals and terraced rice paddies in winter, which were accompanied by displays that included photographs of terraced rice paddies across Japan by the photographer Kenji Aoyagi.

Additionally, in the "Gallery of Seasons" space connecting the reception with the main hall, panels were held to introduce the history, spread, and culture surrounding the rice that plays a central role in our cuisine, as well as the background of the production of "Seasons of Tanada," making this an event where visitors could rediscover the rice culture of Japan.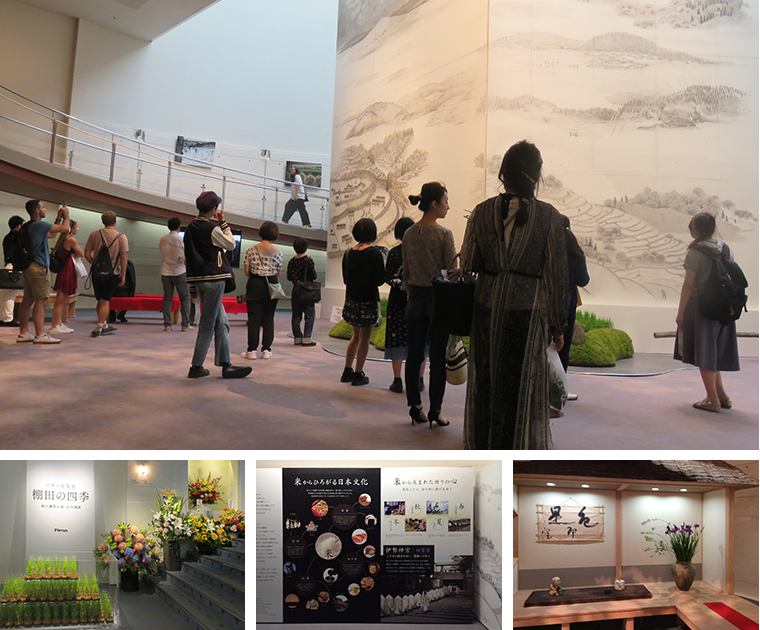 Period:

Thursday, June 1 to Sunday, June 4, 2017, 11:00 am–8:00 pm

Venue:

Spiral Garden [Spiral 1F]
5-6- 23 Minami-Aoyama, Minato-ku, Tokyo

Admission:

Free

Sponsor:

Plenus Co., Ltd.

Support:

Washoku Japan
Ajinomoto Foundation for Dietary Culture
National Museum of Japanese History
Tanada Network

Cooperation:

KUYO Art Project